Mud Cleaner
GNZJ Mud Cleaner
GNZJ mud cleaner is a normal model of our company,we can design customized cost-effective mud Cleaner for customers special needs.Our mud cleaner can meet almost all needs for oil & gas well drilling fluids treatment system and HDD Mud Recycling System.
Mud Cleaner Factory Photo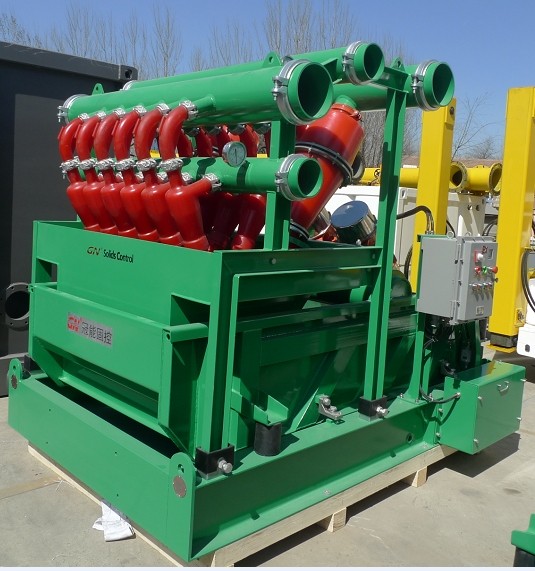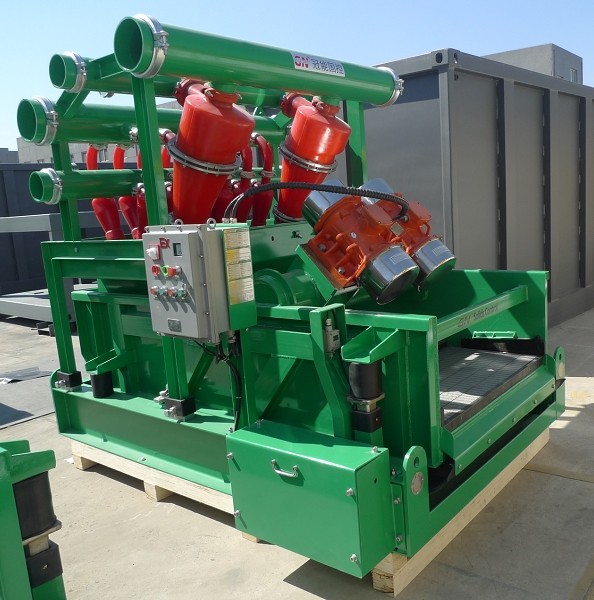 GNZJ Linear Motion Mud Cleaner Technical Parameter
Model
GNZJ703E-D1S8N
GNZJ703E-2S12N
GNZJ594E-2S12N
GNZJ703E-3S16N
GNZJ594E-3S16N
Capacity
120m3/h(528GPM)
240m3/h(1056GPM)
360m3/h(1584GPM)
Desander Size
10 Inch
Desander Qty
1pcs
2pcs
3pcs
Desilter Size
4 Inch
Desilter Qty
8pcs
12pcs
16pcs
Working Pressure
0.25~0.4Mpa
Feeding Size
6 Inch
Output Size
8 Inch
Bottom Shale Shaker Specs
Shaker Model
GNZS703E
GNZS594E
GNZS703E
GNZS594E
Vibration Mode
Linear Motion
Vibration Motor
2×1.72Kw

Screen Qty

3pcs

4pcs

3pcs

4pcs

Screen Size

700×1250mm

585×1165mm

700×1250mm

585×1165mm

Screen Area

2.63m2

2.73m2

2.63m2

2.73m2


Adjust G Force

≤7.5G

Vibration Amplitude

4.14~5.96mm

Deck Angle Range

-1°~+5° (Eletric & Mechanical)

EX Standard

ExdIIBt4 / IEC EX/ ATEX

Weight(Kg)

2071

2296

2343

2393

2440

Dimension(mm)

2419×2113×1848

2419×2113×2147

2639×2113×2147

2419×2113×2147

2639×2113×2147
GNZJ Mud Cleaner Features & Benefits
Desander & Desilter & Shale Shaker 3 in one unit mud cleaner for compact footprint.
Polyurethane Material hydrocyclone for long life.
Removable hydrocyclone assembly for adjust to be a shale shaker.
Patent shaker deck angle adjustable while working, mechanical deck angle adjustment with reliable performance.
Patent tighten rubber sealing for mud cleaner shaker deck and screen for fine screen.
Shaker bottom deck made from Stainless Steel for long service life.
Heat treatment on complete shaker deck for High G force operation.
Pretensioned Shaker screen for fast screen replacement.
Famous Brand Vibration Motors : IEC Ex, ATEX and UL Certified mud cleaner.
Mud Cleaner is the second class and the third class solids control equipment which is the newest type to treat the drilling fluid. GN drilling mud cleaner are combined from Desander, Desilterand an Underflow Screen, at the same time Mud cleaner has the higher cleaning function compared with separated desander and desilter. In addition to the reasonable design process, it equals another shale shaker. GN mud cleaner structure is compact, it occupy small space and the function is powerful. Mud cleaner is the ideal device of the second class and the third class solid control to treat the drilling mud.
Drilling mud Cleaners for drilling fluids solids control:
Drillingmud cleaner is also called Desander and Desilter assembly,which is the combination of desander,desilter and an underflow screen.Namely,mud cleaners consists of a two-stage separation process using a combination of hydrocyclones mounted over a shale shaker to operate as a single unit. Designed to handle the entire circulating volume, Drilling cuttings cleaners are effective on both weighted and unweighted drilling-fluid systems in removing and drying solids while retaining the expensive liquid. The hydrocyclones(desanders and desilters) make the primary separation with underflow directed onto the shaker's vibrating screen. Used correctly, the drilling mud cleaner lower both drilling-fluid and disposal costs. In oilfield solids control,drilling mud cleaners are very efficient for oil gas well drilling mud purification system.Mud Cleaners are one of the important equipments for solids liqiud separation system. We are an exporter of dilling mud cleaner for Indian, Russian,middle east.etc.Oilfield Company of the United States and Century Int'l Oilfield Equipment LLC of the United Arab Emirates etc. choose us as dilling mud cleaner supplier.Our factory and company are Quality Management System ISO 9001-2000 certified.GN Solids Control operate waste mud management international sales,service,manufacturing,distribution serivce.Buy dilling mud cleaners from China manufacturer,good quality,best price.your best choice of dilling mud cleaner.